Apartment bathrooms can be the least "nice" square feet in your whole place! Even after the deep clean you surely gave it upon move in, it can be hard to make it look shiny and new. Never fear! There are quite a few cheap bathroom upgrades that will improve the look and feel of your apartment bathroom and help you forget – even for a minute – that many others have probably used it before you!
Check big box retailers for well-priced items like the ones below to help you save some money while upgrading your place. And, always remember to add upgrades that you can take with you when you move to your next apartment! Adding fancy new faucets and fixtures only helps your landlord in the long run. Choose items that are easy to pack and use in your next apartment!
Shower curtain rod
The shower will be where you spend a lot of your time… consider investing in a shower curtain rod that won't drive you crazy! Curved curtain rods are a big hit and give you some extra space in what might be a small shower. But, so are any smooth curtain rods that ensure your curtain won't get stuck each time you open and close it. (Remember to store your landlord's old one so you can re-install it when you move out.)
Shower curtain (and liner!)
Find yourself a shower curtain that you like! It' doesn't have to be fancy or out of a Pier 1 catalog, but shouldn't make you say "ugh" each time you see it. Neutral colors can help make your bathroom feel bigger, while patterns and color may make you smile! And never (NEVER) skip the shower curtain liner. They are an inexpensive way to extend the life of your shower curtain while ensuring water doesn't puddle on the floor.
Bath mats
Keep your toes warm and avoid slipping by adding color coordinating bath mats! Consider one for right in front of your sink (cold toes!) and one for the floor right in front of your shower (avoid slippage!). These can quickly make your bathroom feel more put together and stylish while bringing on major function.
Check your tags to determine if they are machine washable (a must!) or if they include non-slip material on the bottom for added safety.
Trash can and small garbage bags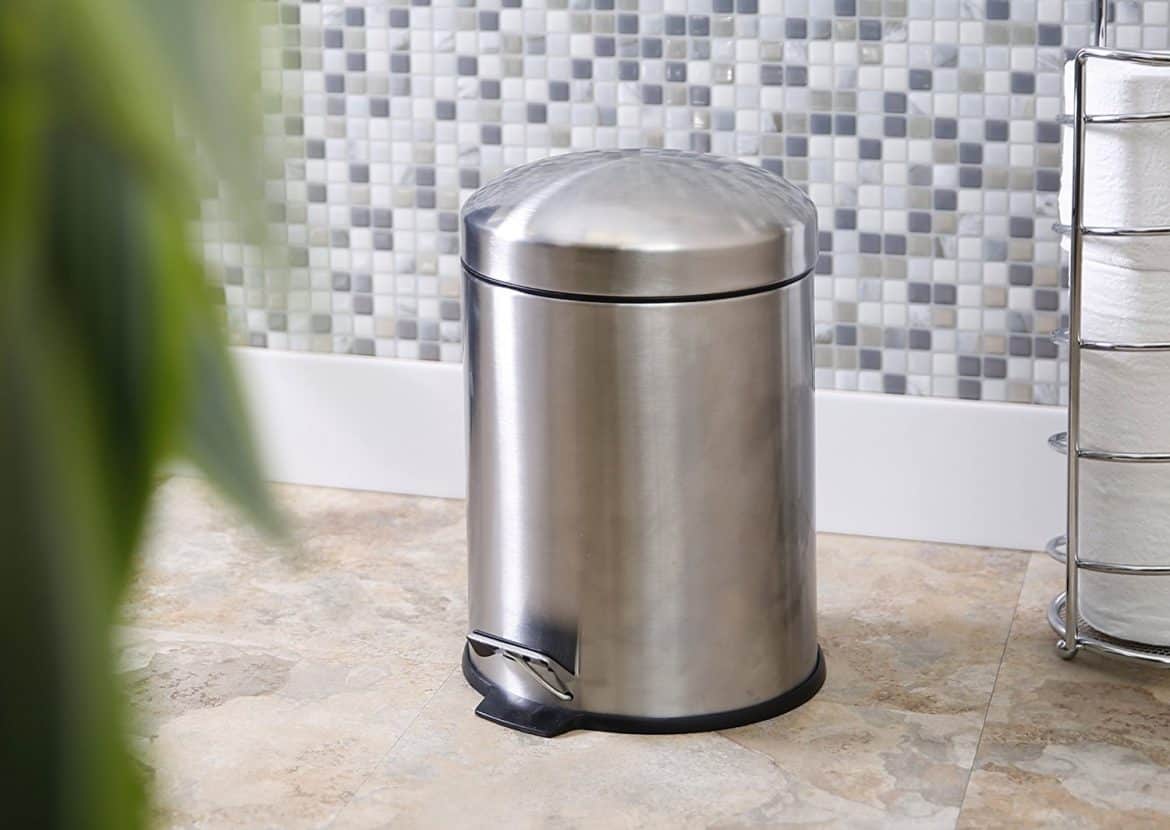 Your bathroom can be an easy place for trash to collect, from shampoo bottle packaging to new clothing tags to tissues… it adds up over time! Find a small trash can you can tuck beside your toilet to subtly collect trash. Don't forget to take it out when you take your kitchen trash!
As a quick and easy upgrade, consider purchasing mini garbage bags to fit the trash can – this will keep your can tiny and make it even easier to take out the trash without letting it pile up.
Organizing baskets
Don't let your bathroom get unorganized! In a small space especially, organization is critical. Every few months, take everything out of your bathroom cabinets and get rid of items you don't need. Consider investing in organizing baskets like these seagrass ones from Amazon to maximize your space without leaving items piled up on our countertops. For instance, I have a tall thin bathroom cabinet. Inside, I put a locker shelf (literally!) with a basket on the bottom and basket on the top – voila! Cheap and easy upgrade to keep me organized.
Cleaning supplies
Finally, keep your bathroom cleaning supplies within arms reach and you'll be much more likely to keep your space fresh! Toilet cleaner and counter/bathtub spray should be enough to remind you to do your weekly wipe-down in your bathroom without becoming too big of a hassle.