So I've found a place, and that's all well and good. We went over the other day to sign a sublet agreement, and everything is set up for the first month. The landlady prorated it from the time I move in, which is awesome because it saves us a couple hundred. She did ask for a security deposit, which is pretty standard, I think. She did say, however, that she had no intention of keeping it unless there were things that were very seriously awry when she got back. We signed on from May 10th until the end of August, and we're paying her on a monthly basis, which also works out very well. Sometimes subletters want you to pay the whole sum up front, or at least a huge portion of it, and that would have been a problem. I mean, I know as a graduating college student I can just pull from my giant pool of resources, but you know…
So the next thing is moving. Yuck. I've been at my current place for two years, and I have crap everywhere. I mean, three of us have been here that whole time, and all our stuff is totally mixed together. Luckily I only have three big things to move (bed, dresser, and desk), but it's still a very, very daunting task to pack up your whole life. Especially when you're a packrat like me.
When you're moving, it's important to find your one friend who has a truck and looks like this.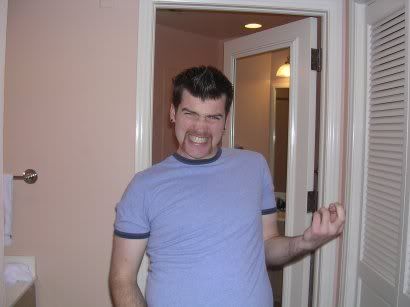 He's probably helped friends move before. As a general rule of thumb, look for the guy with the mustache. He probably likes lifting heavy stuff and knows how to maneuver a bed around a flight of stairs.