I'm finding out that the most frustrating thing about hunting for apartments on a strict timeline is that it has to be done on a rolling basis. We looked at two more apartments, both of which were gigantic one-bedroom deals with hardwood floors and the whole nine yards. The first one, though, was the first guy that I had gotten in touch with (weeks before we actually got down to visit it) and it was already spoken for by the time we got there. He was really nice, though, and we decided to come down and check out the place just to get an idea of some of the other stuff that was down there. It was really, really nice: huge, big kitchen, dishwasher, small "smoker's" porch, and everything. It wasn't exactly cheap, but it was a place that I would have been willing to pay for because it was so nice. Liz was less enthusiastic, but it didn't matter anyway.
The next place was unbelievable. The time frame meshed with mine exactly right, it was huge and super nice, on a really awesome, beautiful block, not overly expensive. Again, Liz is trying to save money because she'll be living in New York come the fall, but I convinced her that this place was worth it.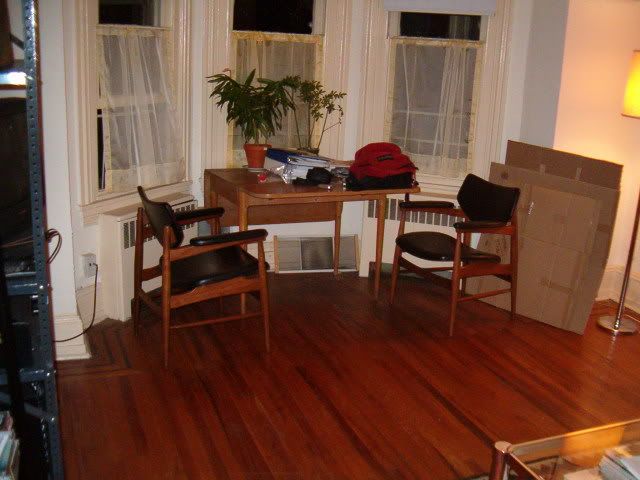 The bedroom was really big, the living was enormous, and she'll leave it pretty much unfurnished, which is nice because I have a house full of crap that I need to put someplace, and I find it hard to believe I'll be able to get much of it to my parents' in Massachusetts without a huge hassle. The one issue with subletting is that you can never tell what the subletters are looking to do. It would also help if I knew how long I was staying in Philly, but that time will come soon enough.