So we put in our names on the one place we really liked. We had to wait for a while after we looked at it, though, and the girl hasn't gotten back to us. This place is really quite nice. And this weather-beaten poster nearby tells the story of the people in the neighborhood: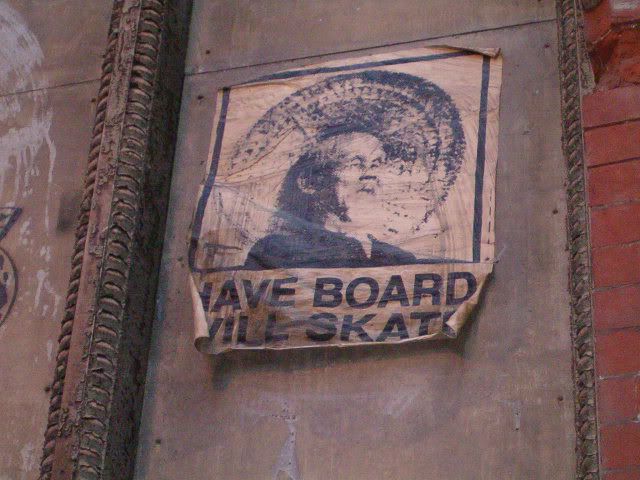 It was a difficult decision, and it was hard because Liz seemed to be dragging her feet, so when I finally got her to talk about it, it turned out it wasn't the apartment at all that was bothering her but some outstanding issues in our relationship. We had a nice, long talk about what it would be like to live together, clarified some stuff that could have been bothersome, and laid some ground rules for how life was going to look when we move in together. It was a very good chat.
I think that living with a significant other can be a very good thing, I really do. However, you have to keep in mind that the relationship won't stay the same; it will either get better or it will get worse, and it won't get better if you don't work at it. This is the same for any roommate arrangement, as I've found out in my years at college. You have to be as proactive as possible, in finding places as much as maintaining them. Roommate arrangements are intense because sometimes you don't know people, so it's a good idea to lay ground rules no matter how well you know them. This goes 1443242544545432 times for significant other living arrangements.
So far we've looked at four places (one of which was already taken), and since they haven't gotten back to us, I think I'm going to start e-mailing some more places. We're really quite lucky that there are so many available.